We are now open for the summer!
Hello there!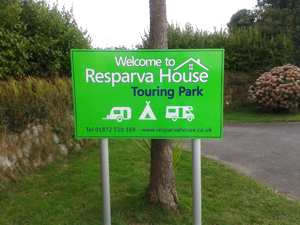 Here at Resparva House Touring Park in Newquay, we (Angie & Steve) offer pitches to adults only and always greet our visitors with a big warm welcome, especially knowing that you have probably had to travel a long distance, or maybe been held up along the way.
Upon your arrival may we offer you a refreshing complimentary pot of tea or coffee to help you sigh a relief at now being able to stretch those legs and after a few deep breaths of the fresh Cornish air, you will soon be revitalised and ready to set up your pitch. Is'nt it a great feeling knowing you have a wonderful holiday ahead of you?
Our level and sheltered site of thirteen pitches here at Chapel Town, Summercourt, is surrounded by a natural Cornish hedgrow. For your privacy we have trees and shrubs that divide each pitch.
Our camping park accommodates motorhomes, caravans and tents and being so centrally positioned in the county, makes us the ideal spot for you to explore Cornwall.
We are so fortunate to be where we are, and that is what makes it great for you. You are more than welcome to bring along your pet dog if well behaved.